Message from The Principal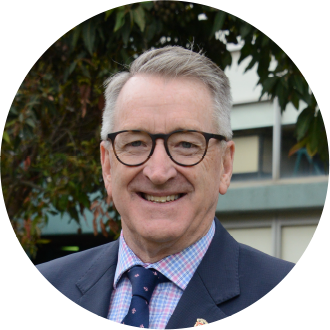 Christopher Dalton
Principal
Farewell to the Class of 2022
The end of Year 12 is both a time of reflection and a celebration of the valuable contributions students have made to the Sacred Heart Girls' College Community.
We look back on their time as students of the College and look forward with hope and optimism to the opportunities that lie before them.
Our graduating class now face one of the key moments of change in their lifetimes, as they move from secondary schooling to tertiary study and work. Times of transition can be disconcerting as none of us can ever know what lies ahead of us. But, while we can never be certain about the future, we can be prepared to face whatever comes our way.
A Sacred Heart Girls' College education offers so much more than subject knowledge and skills to our students. The Gospel values and learning dispositions instilled in our students are integral to everything we do in our College. It is with this in mind that I offer the following message to the Class of 2022.
Your time at Sacred Heart Girls' College has provided you with many pathways and possibilities. Beyond study goals and career aspirations, what else can you take from your time at SHGC?
See. Judge. Act. Jesus calls us to be people of justice by respecting and being of service to all who we encounter. You have been blessed in so many ways: supportive families, good health, and a great education. Your task as a Christian, a follower of Jesus, is to look beyond yourself and open your eyes to the brokenness and fragility of our world. When you recognise injustice, consider how you are called to serve in the world. The Gospels teach us that it is in the service of others that we come to know ourselves.
Ideas, no matter how big or small, have power. Ideas can inspire and challenge us. They can give us the courage to tackle tasks that may seem insurmountable. One of President John F Kennedy's best remembered speeches, referred to as the "Moonshot speech", declared his idea to pioneer the first human landing on the moon, an idea which became reality five years after his assassination. His daughter, Caroline Kennedy, recently appointed as the US Ambassador to Australia, referenced this speech saying:
"President Kennedy understood the power of the idea…the Moonshot speech has become perhaps his best-known legacy. The vision, purpose, courage it embodied has inspired each generation to take on hard challenges and provides a metaphor to guide us as we face adversity in our lives."
She identifies the takeaway message from his speech is that:
"It's up to each of us to set an example to do hard things when we don't think we can, to believe in others when they take risks, to support them when it's tough. And never forget that together, we can achieve great things."
Believe in yourselves, each other, and the potential of ideas.
Be seekers of truth. Continue to train your intellect by staying curious and being seekers of truth. The authentic search for truth requires an inquiring mind, one that seeks answers to meaningful questions that may challenge our perspectives. Our search for truth is broadened and deepened when we engage in meaningful relationships and respectful dialogue.
As a community, we thank you for all you have accomplished over the past six years and acknowledge your vibrant life-giving presence. Your involvement in academic programs, the arts, social justice, faith, liturgy, sport, community, and leadership provided great enrichment to you as individuals and to our community.
As I conclude, I acknowledge everyone who has supported our graduating class along the way. Thank you to the teachers and support staff who have helped to guide, nurture, and foster a love of learning. Thank you to our partners in education, the families who entrusted their children's formal education to us.
On behalf of everyone in our community I wish the Class of 2022 God's blessing as we send you forth with warmest congratulations into the next stage of your journey. May you encounter every challenge with hope, enthusiasm and joy and may God bless you all the days of your life.