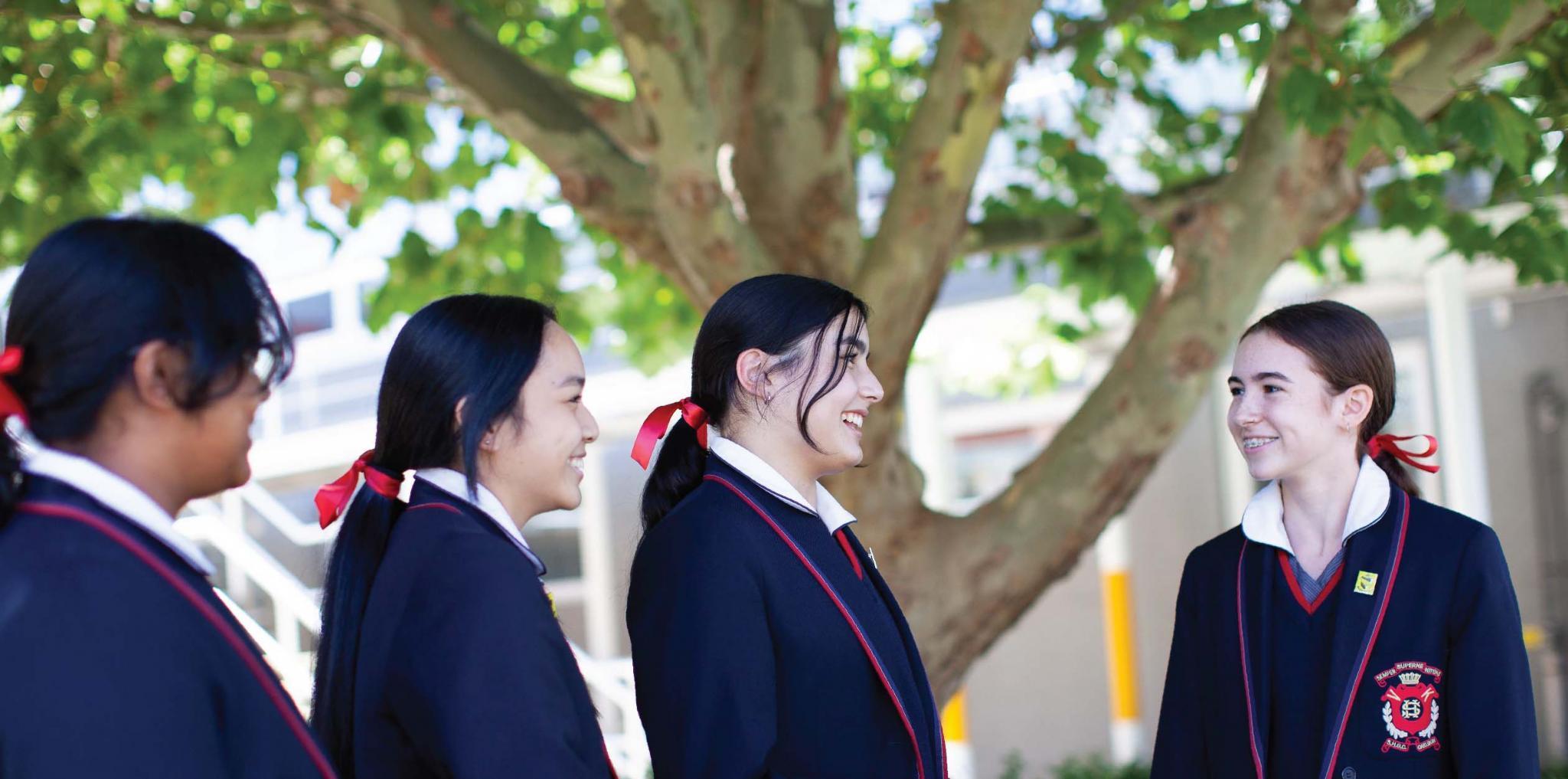 The College uniform reflects the College community and individual students. It is expected that students wear their uniforms to a high standard in accordance with the College uniform expectations. Uniform items are expected to be in good condition and properly fitted. Students are expected to present a neat and tidy appearance.
Please ensure that all clothing is labelled with the student's name. All College uniform items, except for hair items, footwear and belt are purchased from Academy Uniforms.
The following information is taken from the student planner and is intended as a reference for parents, carers and students…
College summer uniform
There are two options for the College summer uniform:
College summer dress, jumper, blazer and socks. Flat-heeled black leather lace up school shoes. Summer dress length to be below knee.
College summer shorts, short-sleeve shirt, jumper, blazer and socks. Black or navy-blue belt. Summer shorts length to be mid-thigh. Flat-heeled black leather lace up school shoes.
College winter uniform
There are two options for the College winter uniform:
College skirt, jumper, blazer, long-sleeve shirt. Navy-blue tights or College socks (not College sports socks).
Skirt length to be below knee. Flat-heeled black leather lace up shoes.
College winter pants, jumper, blazer, long-sleeve shirt. Dark blue or black belt and navy blue socks. Flat-heeled black leather lace up shoes.
Summer and winter uniform dates
The summer uniform is worn in Term 1 and Term 4.
The winter uniform is worn in Term 2 and Term 3.
During the first two weeks of Term 2 and last two weeks of Term 3, students may wear either summer or winter uniform

Sport and Physical Education Uniform
The College Sports and Physical Education uniform consists of:
College white polo shirt, House polo shirt, PE shorts, sports cap, track pants, spray jacket, rugby top and College sports socks. Appropriate running shoes.
PE shorts to be mid-thigh in length and track pants to the ankle.

College polos
The College white polo shirt or House polo shirt may be worn for PE lessons and House activities. The House polo is worn for House events such as Swimming Carnival, Athletics Carnival, House cross country and House netball.

The College PE polo shirt is worn for representative sports or when stipulated for offsite activities. Sports cap is worn for all outside classes in Terms 1 and 4.
College events
All students wear the College winter or summer uniform, as per dates noted above, for formal College events. This includes, but is not limited to, College Masses and assemblies.

Specific uniform expectations
Uniform expectations apply to normal school days, College onsite and offsite activities, camps and trips as noted below:

Clothing
College jumper may not be worn to or from school without the blazer

College summer, winter, sport and physical education uniform items not to be mixed. Exception: the College scarf may be worn with winter or PE uniform in Terms 2 and 3. It is not worn to PE practical classes or sport.

Students are permitted to wear the PE uniform to and from school on days when they have timetabled practical PE or Dance classes or when instructed for Drama classes

Plain navy-blue woollen gloves (not fingerless gloves) may be worn with the winter uniform

Short or long-sleeved t-shirts and other non-uniform items of clothing must not be visible

The official College backpack or bag on wheels is compulsory. The official College sports bag may only be used for College offsite activities.

Please note... when casual clothes are worn, they must be neat, conservative and appropriate. College rules relating to hair, make-up and jewellery remain in place.
Hair, jewellery, make up and more
Make-up, fake/dyed eye lashes, eye lash extensions, fake tan, nail polish and nail extensions are not part of the uniform.
Students may wear a wristwatch and small, plain gold or silver studs or earrings (one in the lowest piercing in the lobe of each ear). Students with additional ear piercings may only wear non-discernible (i.e. clear or skin-coloured plastic studs) in other ear piercings. No other visible piercings or jewellery items are permitted.
Hair which is shoulder-length or longer must be fully tied back.
Hair ties are red, navy blue or black. In line with school colours, scrunchies and ribbons to be plain red or navy-blue for students in Years 7 - 11. Students in Year 12 may choose to wear white ribbons or scrunchies.
Hair to be natural colour or tone in appearance.
Extravagant and inappropriate hairstyles are not permitted.
Hair extensions are not permitted. A student in breach of this expectation is required to make changes necessary to meet expectation and may be sent home.
Coloured contact lenses are not to be worn.
Visible tattoos, body painting, body and facial piercings are not permitted. Students who attend the College or College functions wearing facial piercings may be sent home. The use of band- aids and the like to cover such items is not acceptable.
Sports tournament/competition/training
Students participating in any College tournament, competition or training activity are permitted to wear the PE uniform to and from the College.
Students involved in organised tournaments/competition/events must wear the appropriate sporting attire for that tournament/competition/event. Students involved in any training activity must wear the PE uniform or other attire as directed.
Swimming Activities
Students must wear one-piece bathers
Students may wear board shorts and UV rash guard tops